MEMORIES FROM GROUNDBREAKING AGOGE 003, AGOGE CHINA (COURTESY OF TEAM WARRIOR STATE OF MIND)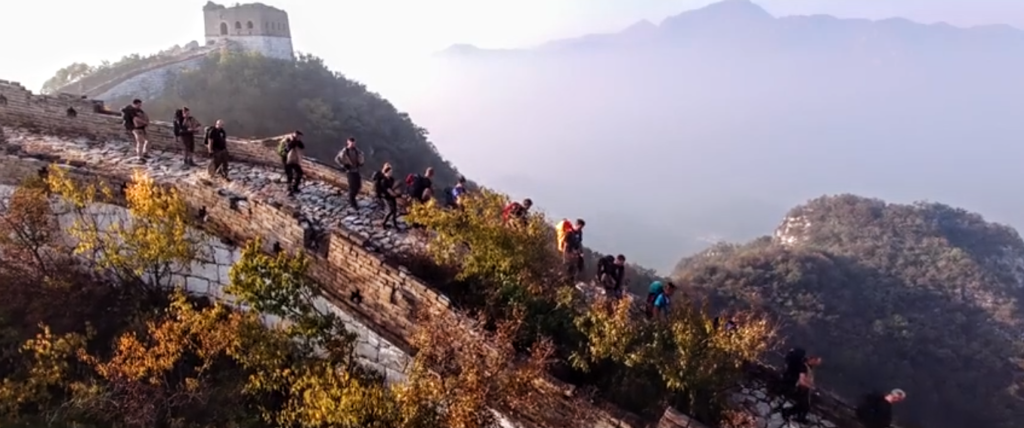 By David DeLuca, Spartan Editor
Agoge 003 (aka Agoge China) broke new ground as Spartan's first international Agoge. It also broke hearts, shattered expectations, and did what the Agoge does best: make people feel uncomfortable. But this unprecedented degree of discomfort was not without a blissful afterglow. With pain as its medium, the Agoge 003 wrought powerful personal change in all of its participants, forged bonds of camaraderie, and inaugurated a new chapter of Spartan legends to be told and re-told for years to come.
Through the woods and over the great wall of China, Spartans developed the body, mind and spirit. How far will you push yourself to earn the coveted achievement? https://sprtn.im/Agoge2017

Posted by Spartan Race on Tuesday, December 20, 2016
One team that participated in the Agoge 003 shared their most powerful memories below with their favorite photos and captions. Read on to catch a glimpse of the world through the eyes of Team Warrior State of Mind.
ALI TUCKER
"We may be exhausted, but the look of determination overpowered it. I love the strength and unity we had as a team. Team 2 stood strong together through the entire event. We are the storm."
MEGAN CASEY
"In the final hour, it simply comes down to mind over matter."
SEAN LINGWALL
"Better make sure this knot is right, or it's more burpees for everyone."
RAUL OLIVER MENGUAL
"Amazing, fascinating, everything and nothing. An unforgettable experience lived in the great wall. Thank you."
FRANNIE STEELE
"Are we seriously about to do this right now? I guess I shouldn't be surprised anymore."
TOMY RODRIGUEZ
"Thanks for the support. The friends are the family that you choose."
DREW DAHLBERG
"This is a unique submission because it takes place after the Agoge Experience but I feel this encompasses what I experienced in the Agoge. Dirty Face, Brother by my side, People all around, Joy in my soul, Shirts Claiming Victory."
(HUNTER) MANUEL MONTIEL
"Spartan spirit… overcoming, sacrifice, fellowship."
JEFF IGNATOWSKI
"The pain only lasts for a moment, but the change lasts a lifetime…"
MARK SALVADOR
"I came, I saw , I conquered, not just the wall or the Agoge, but myself….Epic!"
TIM DAHLBERG
"Greatness lies not in being strong, but in the right using of strength; and strength is not used rightly when it serves only to carry a man above his fellows for his own solitary glory. He is the greatest whose strength carries up the most hearts by the attraction of his own. – Henry Ward Beecher"
JEREMY ANDERSON
"I've been reflecting on my experiences during the China Agoge 003. It was REALLY tough!! I had to push myself to new levels. In doing so I grew, and became a BETTER man. I now solve problems more efficiently, I think differently, and I work and function with others much better now.
"I have new friends now that I'd never met or even seen before, and I bonded with them immediately. I shared food and drink with them, I carried some of their packs when they couldn't, and I encouraged and supported them when they were at their lowest. I would have done anything asked of me for any one of those teammates, and I still will. I will be forever grateful for for these lessons I have learned." — Jeremy
DAN BECK
"Agoge — more fun than any adult should be allowed to have."
FRANK RUGGIERO
"Mentally broken; relying on my true north my perseverance and grit to guide me the rest of the way."
RUSTY KEEL
"We're exhausted and dirty, but happy."
AMANDA KEEL
"The first time we'd really seen or talked to each other in 60 hours."
SCOTT CRANE
"I never though what we did was possible. Yet we all worked together and finished stronger than when we started."
MARTIN PARR
Organized Chaos — "Everything in this photo seems haphazard at first glance. But in a city the size of Beijing, it becomes clear that everything is calculated and run with great precision…there is no other choice. The people that I interacted with during my visit to Beijing and the Great 'Wild Wall' were incredibly proud of their culture."
But what really struck me was their devotion and connection to family. The elders were incredibly involved in the lives of their grandchildren as illustrated by the photo below. Everywhere I looked, I witnessed these cross generational engagements. Clearly the young benefiting from the old, and vice versa. For all that I saw, the most powerful message that I took away was – importance and dedication to family, the greatest form of wealth.
GRADY SMITH
"I chose this picture for a few reasons. One being that at this moment I felt the accomplishment of what I had accomplished for myself, and at this moment I had a moment to take in the beauty of what very few get to experience. The second reason is because people who were complete strangers three days ago were now life-long friends. I do, however, have another reason. At this point David asked us if we wanted to run down the Great Wall and despite all of the pain in my body, I couldn't resist. It was best experience I could have ever asked for. A once in a lifetime opportunity."
BLAKE KILLPACK
"Your mind is the most powerful thing. When you fill it with positive thoughts, your life will start to change."
CORDERO BELTRAN
"Can't think of a better place be and a better group to be with. Thanks, Class 003."
ERIC RICHARDSON
"Head 'n' Shoulders" — "When you're neither head nor shoulders above the rest, it gives you the opportunity to work that much harder for the Team. You dig deeper, push harder, and work more effectively, not only for your own growth, but to help carry the weight of others struggling around you."
MARK MUEHLEISEN
"An experience that extracted fortitude, and perseverance far beyond anything I expected from myself. I am forever affected."
SIVILAY KETTHISAK
"The Agoge was described as a rebirth, but for me it was an awakening." — Sivilay, second from left
DEVON BROWN
"Agoge is not about being in the front. I have learned that it is about reaching back to help elevate everyone on your team."
LEARN MORE ABOUT THE AGOGE.
The Spartan Agoge brings together every physical and mental strength as well as everything a person has learned in life. Finishers become innovative thinkers, prudent risk-takers, and expert decision-makers. They will embody the Spartan Code, a code of honor and respect that breeds trust and inspires action. Most importantly, they become masters of themselves.
Learn more about the Spartan Agoge.